Subject:
IRON MAN E-Zine: Issue #749:
3 Steps to Ripped Mass–Sooner Rather Than Later
==========================================
TRY THIS AT YOUR NEXT WORKOUT
==========================================
3 Steps to Ripped Mass–Sooner Rather Than Later
Q: Now that it's spring, what are the first things you do to start ripping up quicker? I want to see my abs before the end of summer this year.
A: The very first thing we do is clean up our diets. No more junk food–although in the beginning we do allow it on Sunday to boost our calorie load, which stokes the metabolism.
The second thing we do–and sometimes it takes a warm day or two for this to happen–is hit the gym with more intensity and a bit more volume…
That takes a sense of urgency, which can require some panic–like taking off your shirt to get some sun and seeing a few white rolls around your middle. Yikes.
Or driving over to a friend's house for pool party, hitting a pothole and feeling your belly jiggle for 10 seconds after. Uh oh.
The third thing we do is add at least one X-centric, or negative-accentuated, set for each muscle group. That's lifting in one second and lowering in six on every rep…
With each rep lasting seven seconds, you get almost one minute of tension time with 8 reps. That insures you get into the hypertophic tension-time zone AND get muscle burn for growth hormone release. GH is a key fat burner…
The slow negatives also produce more trauma in the myofibrils in muscle fibers. That's key because it takes energy to repair those tears, and a lot of that comes from body fat. That's why your metabolism burns hot for longer–often days. (There's more on that in The Ultimate Fat-to-Muscle Workout, with X-centric worked into all the programs.)
One last thing. When the weather starts heating up, get out in the sun. Studies shows that getting your vitamin D levels up optimizes hormones that help you burn more fat. Follow those tips, and you'll be beach ready just like that.
LOW-PRICE NOTE: The Ultimate Fat-to-Muscle Workout is now only $15 (regular price $39). Get it HERE <==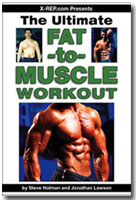 Till next time, train hard–and smart–for BIG results.
–Steve Holman and Jonathan Lawson
www.X-Rep.com
Newly Updated E-book: The Ultimate POWER-DENSITY Mass Workout 2.0 with SUPER TORQ training–ONLY $12…
The Updated Power-Density Mass Workout 2.0 is only $12 (regular price is $24). We've revised this classic e-book with new chapters and workouts, including an interview with Mr. America Doug Brignole on his unique high-rep mass method–and we've included his complete workout with what we call Super TORQ: Only one exercise per muscle with a 50-40-30-20-10 sequence. We also outline 2 more new programs, OUR Super TORQ routine, based on Doug's but tweaked with a few standard sets, and a Power-Density version that has Super TORQ at one workout and heavy full-range Positions-of-Flexion training at the next. This is our most exciting e-book yet. For more on the updated Power-Density Workout 2.0 with Super TORQ (ONLY $12 for a LIMITED TIME), Go HERE <==
OTHER SPECIAL OFFERS…
LIMITED-TIME $14.99 to $19.99 BEST-SELLERS: We're offering each of these at their lowest price ever to get you big and ripped by spring. Click on the title you're interested in for more info…
1) The 4X Mass Workout–fast, simplified supersaturation training for X-treme size
2) The X-traordinary X-Rep Workout–the latest update to our original X e-book
3) The X-centric Mass Workout–the negative-accentuated training manual
4) The Ultimate Fat-to-Muscle Workout–total body transformation training
5) X-traordinary Muscle-Building Workouts–10 complete mass programs
6) X-traordinary Arms–includes the 3D HIT workout system with big-arms routines
7) 3D Muscle Building–the original Positions-of-Flexion mass-training manual
8) X-treme Lean—Fat-Burning and Nutrition Guide (with training too)
9) The Ultimate Power-Density Mass Workout
10) The Ultimate 10×10 Mass Workout
——————————————————————–
To follow the ITRC training program in "Train, Eat, Grow," get a copy of the latest issue of IRON MAN.
——————————————————————–
This Special Report was submitted by Jonathan Lawson and Steve Holman.
The IRON MAN Training & Research Team
www.ironmanmagazine.com
The ITRC Training Newsletter is not intended as training advice for everyone. You must consult your physician before beginning any diet or training program. You may forward this email to as many friends as you want, but do not photocopy or reprint this report in any format without the written permission of the copyright holder.
——————————————————————–
Help us build the IRON MAN Research Team — Tell a friend! If you know someone who would benefit from Supplement Updates, Diet Tips and Freebies, forward them this e-zine or tell them to visit us at
http://www.ironmanmagazine.com and click on FREE Training Newsletter.
*We DO NOT sell any subscriber e-mail addresses.
——————————————————————–
All Content (c) Copyright 2013 IRON MAN Magazine
All Rights Reserved