IRON MAN E-Zine: Issue #320:
Cover Man Arm Workout

www.ironmanmagazine.com
TABLE OF CONTENTS:
* Try This at Your Next Workout
* In IRON MAN This Month
* Special Iron Man Offer
==========================================
TRY THIS AT YOUR NEXT WORKOUT
==========================================
Cover Man Arm Workout
Q: I saw Jonathan on the cover of the March '09 IRON MAN. Congratulations. Unbelievable biceps. I couldn't find an article on his arm training. How did he build those incredible peaked bi's?
A: Full, peaked biceps are only possible if you have the genetic propensity to build thick, high bi's. That's not to say you can't do it; you'll never know till you try–and full-range training will bring out your full muscular potential…
That's why we always use some form of Positions of Flexion, which insures that the muscles are trained through their total range of motion–midrange, stretch and contracted; however, we have many variations, and the POF biceps routines can even be tweaked to enhance width or peak as well as a balance of both. How? With the in-for-out/out-for-in rule.
A wide grip (out) puts more stress on the inner head for width, while a narrow grip (in) hits the outer head best for more peak. That's one reason concentration curls are a great peaking exercise–the arm is angled across the body, which is as narrow, or "in," as you can go for outer-head stress. The outer head is what creates peak or height.
For inner-head density–so your arms look thicker from the front hanging at your sides–substitute one-arm spider curls with the upper arm angled out. We classify that as a fullness or width exercise for the bi's.
Whether we are stressing inner head for width or outer head for peak, we always use the three-way POF technique. For example, barbell curls for midrange work, incline curls for stretch overload and concentration curls for contracted-position work…
It's simply a matter of altering grips and/or exercises in each position to get slight enhancements in the different heads for unique effects like more peak–but, as we said, the results you ultimately get will be governed by your genetics. And intensity. You gotta go medieval on those muscles! (For more information and complete biceps and triceps specialization programs, see the X-traordinary Arms e-book.)
Q: I'm getting great results with sets using six-second negatives [on every rep of a negative-accentuated set]. I'm bigger and leaner after one month. My question is, Will I get even better results if I up the weight and do pure negatives? My partner can lift the weight for me, and I'll lower slowly [six seconds] for as many reps as I can get till failure. The heavier weight should cause more trauma and better muscle gains and fat loss, right?
A: That depends on your level of training and your recovery ability (genetics again). Pure negatives are extremely traumatic and should be used infrequently…
Here's a passage from The Ultimate Fat-to-Muscle Workout, our latest e-book, that explains…
"A study performed in the 1990s by Frank G. Shellock, Ph.D., showed the extensive damage pure negatives can do. Subjects performed one set of positive-only curls with one arm and negative-only curls with the other, both sets to failure. Results…
"The positive-work-only biceps showed no damage, while the negative-work-only biceps showed damage that peaked five days after exercise. Soreness finally dissipated by the ninth day, but some subjects didn't regain all of their strength in the pure-negative-trained biceps for six weeks!"
Yes, most of the test subjects were untrained individuals; nevertheless, you can see how damaging heavy pure-negative work can be. We believe that's the case even in experienced bodybuilders. That's why we prefer the negative-accentuated version most of the time–1.5 seconds up, six seconds down.
If you try pure negative sets with heavier weights, we suggest you do only one of those PN sets per bodypart–and use it infrequently, maybe every third or fourth workout. Use a negative-accentuated set or two at the other workouts. NA sets are much less traumatic than heavy pure-negative work. (For more information on NA sets and metabolic-momentum training, see The Ultimate Fat-to-Muscle Workout).
Till next time, train hard.
—Steve Holman and Jonathan Lawson
www.X-Rep.com
Latest e-book release:
•The Ultimate Fat-to-Muscle Workout is based on the latest metabolic research so you can get bigger and leaner fast without long, mind-numbing cardio–you'll burn fat and build muscle 24/7 with customized mass-building weight workouts.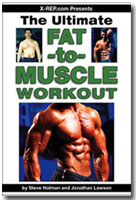 Click on the e-books for more information:
Newbies: If you're a beginning bodybuilder, coming back from a layoff or a trainer who trains beginners, our new e-book, Quick-Start Muscle-Building Guide, is for you.
NEW: Jet-black X-Rep T-shirt. Looks sharp when you wear it out and about; or hack the sleeves off for hardcore workouts.
For any questions or comments regarding the IRON MAN Magazine Online Newsletter, please email [email protected]. To unsubscribe, please see the instructions at the bottom of this email.
To follow the ITRC training program in "Train, Eat, Grow," get a copy of the latest issue of IRON MAN.
——————————————————————–
This Special Report was submitted by Jonathan Lawson and Steve Holman.
The IRON MAN Training & Research Team
www.ironmanmagazine.com
The ITRC Training Newsletter is not intended as training advice for everyone. You must consult your physician before beginning any diet or training program. You may forward this email to as many friends as you want, but do not photocopy or reprint this report in any format without the written permission of the copyright holder.
==========================================
SPECIAL IRON MAN OFFER
==========================================
Maximum Endurance – Minimum Bodyfat – Optimum Fitness!
MAX O2 is the complete guide to synergistic aerobic training and will help you squeeze every last ounce of benefit out of your aerobic workouts.

Join now or renew your subscription to Iron Man today for $29.97 and get MAX O2 ($19.95 value) as a gift. Sorry, USA orders only.

Subscribe Now and Get Growing!

COUPON CODE: HFL-O2





——————————————————————–
Help us build the IRON MAN Research Team — Tell a friend! If you know someone who would benefit from Supplement Updates, Diet Tips and Freebies, forward them this e-zine or tell them to visit us at
http://www.ironmanmagazine.com and click on FREE Training Newsletter.
*We DO NOT sell any subscriber e-mail addresses.
——————————————————————–
*If someone has signed you up for this free newsletter without your permission, or you have changed your mind and don't want to receive it after all, you can click on the link at the bottom of this e-mail to unsubscribe.
Visit the Home Gym Warehouse online store for the latest books, videos and equipment specials at
http://www.home-gym.com
All Content (c) Copyright 2009 IRON MAN Magazine
All Rights Reserved